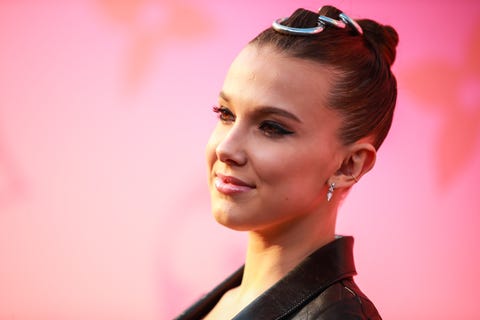 The internet has a habit of calling out celebrities' skin care routines. First, there was Kylie's face-washing technique and the controversy surrounding her walnut scrub. Then people came for Bella Thorne for using lemon and sugar as a facial scrub. Now, people are coming for Stranger Things star Millie Bobby Brown. She recently launched her vegan skincare makeup line for teens, Florence by Mills and filmed a video to show her fans how she incorporates her products into her own nightly skincare routine. Unfortunately, people were not here for her tutorial. Some claimed that it looked like Millie wasn't even applying her own products.
Millie kicked off her video by applying a face mist, which she follows up with a face scrub. She ends her routine by applying a facial moisturizer and a lip oil. Millie shared the tutorial to Instagram, but eventually deleted it, probably due to all the hate she was receiving. But the video is still up on the Florence by Mills YouTube page.
The video set off a firestorm of comments from people who believed that Millie didn't actually apply her own products, or any product at all, and that she's actually wearing makeup in the video.